Piqua City Schools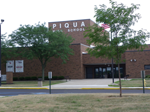 COMMUNITY FACTS
Piqua is a city of 21,000, located twenty-five miles north of Dayton on Interstate 75 and US 36. The community has a number of medium-sized manufacturers and many smaller manufacturing and service businesses. Piqua also maintains necessary professional services in the areas of business, medicine, education, and government.
PIQUA HIGH SCHOOL FACTS
Piqua High School was first occupied in the winter of 1980. It accommodates 1100 students, grades 9-12 and a teaching staff of approximately 65. The school year is divided into two semesters, each semester consisting of 90 student days, for a total of 180 student days per school year. Report cards are distributed each nine weeks, or four times a year. Approximately 200 Piqua High School students attend the Upper Valley Career Center each year for vocational program training.
ATHLETICS
Boys Sports:
Football, Basketball, Baseball, Cross Country, Tennis, Track, Soccer, Wrestling, Golf, Swimming, Bowling
Girls' Sports:
Volleyball, Basketball, Softball, Cross Country, Tennis, Track, Soccer, Golf, Swimming, Cheerleading, Bowling
ACT Test Results
| | | | |
| --- | --- | --- | --- |
| Area | 2015 | 2016 | 2017 |
| English | 20.7 | 19.9 | 19.3 |
| Math | 21.6 | 20.1 | 19.9 |
| Reading | 22.4 | 22.1 | 20.6 |
| Science | 22.4 | 21.4 | 21.2 |
| Composite | 21.9 | 21.0 | 20.3 |